International Conference
Topological methods in dynamics and related topics
Department of Fundamental Mathematics of the Faculty of Informatics, Mathematics and Computer Science, HSE - Nizhny Novgorod invites you to take part in the International Conference "Topological methods in dynamics and related topics".
The conference will cover the following topics:
topological methods in dynamics;
bifurcations and chaos;
geometry and topology of foliations;
algebra and analysis.
The conference will take place in the beautiful old Russian city Nizhny Novgorod. During the conference, it is planned to conduct a course of lectures on the founders of the Nizhny Novgorod school of nonlinear oscillations A. A. Andronov, E. A. Leontovich, A. G. Maier.
Alexander Alexandrovich Andronov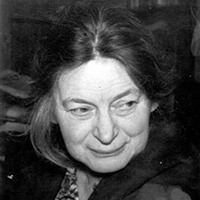 Evgeniya Alexandrovna Leontovich-Andronova
Artemy Grigorievich Mayer
The program of the conference includes a sightseeing tour around the city of Nizhny Novgorod, a visit to a concert of classical music, an excursion to the house-museum of the Rukavishnikovs, a banquet.
Программа мероприятия
10.20-11.20
Plenar session
11.45-13.10
Plenar session
14.10-15.35
Plenar session
16.00-17.05
Section session
17.30-18.35
Section session
18.40-20.00
Furshet and jazz concert
11.20-12.45
Plenar session
13.35-14.40
Section session
14.55-16.15
Section session
16.30-17.30
Section session
18.30-20.30
Concert of classical music in the Rukavishnikov estate
11.20-12.25
Plenar session
13.30-14.35
Plenar session
15.00-16.00
Poster session
16.00-19.00
Excursion in Nizhny Novgorod
19.00
Banquet. Restaurant "At Alexander"
10.00-11.25
Plenar session
11.50-13.10
Plenar session
13.15-15.00
Closing of the conference. Furshet