Humans and Their Digital Footprints: Fantasy Becomes Reality
Social media posts, mailout subscriptions, registrations, reviews, shopping orders, etc—all of these are information footprints left behind by internet users. Timur Khusyainov, Senior Lecturer at the School of Social Sciences, HSE Campus in Nizhny Novgorod, spoke at conferences in Minsk and Novosibirsk about his study of digital footprints and how they can be used to improve the quality of life. Dr Khusyainov shared the results of his research with the HSE News Service.
— What kinds of digital footprints are there?
— A digital footprint is any 'trace' of an action (whether virtual or not) made by a human. The moment we connect to public Wi-Fi, we leave a digital footprint. U.S. researchers carried out a study on this topic in which they calculated the rate of connections to public internet in places where freelancers usually work.
Similarly, university lecture attendance can be measured by the number of active devices in Wi-Fi zones. Various kinds of data on virtual behaviour can be collected, analysed and used in a similar way, as well as by using Google and Yandex technologies.
Many people have no idea that they leave a digital footprint, so I made it my mission to talk about it.
— It's interesting how digital footprints are used to solve real problems, including those within universities.
— For example, there is a policy in China where video cameras are installed in classrooms to record school students' behaviour. These recordings then help teachers to adjust their work and the curriculum. There is another positive example: some American universities develop apps to serve as a kind of 'psychological assistant'. These chat bots can detect stress levels, ask questions, and give advice, which is sometimes done using students' digital footprints.
Digital footprints can be split into two categories: active and passive.
If a user posts on social media, leaves a message on a forum or a website, or creates a profile, every message they post will add to their active digital footprint.
A passive digital footprint evolves when information about a user is collected without them knowing. This happens, for example, when a website collects information on the number of times users visited it, their geographical origin and IP addresses. It is a hidden process, and users may not be aware of it. Another example of a passive footprint is search inquiries, which can be analysed by advertisers in order to specify and target content on social media.
Digital footprints, such as a geolocation tags, are significant for people's reputation and personal security. In 2009, the wife of the head of British intelligence, John Sawers, posted a photo of their house on Facebook and revealed its location. Having such information publicly available is potentially dangerous for the head of MI6, so British intelligence made an effort to delete the content. But the information was already on the internet and could be copied by millions of users. Cases like this happen when people don't realise that they leave digital footprints and that this may have consequences.
Today, social networks pay more attention to users' security, there are more privacy settings. But many users still don't understand the damage their footprints can cause.
Digital Footprint—a Method of Control or a Way to Make Life Better?
At the end of 2021, Dr Khusyainov spoke at a conference at the Belarusian State University dedicated to the modern transformation of cities. His presentation examined digital footprints and how they can be used in urban infrastructure development.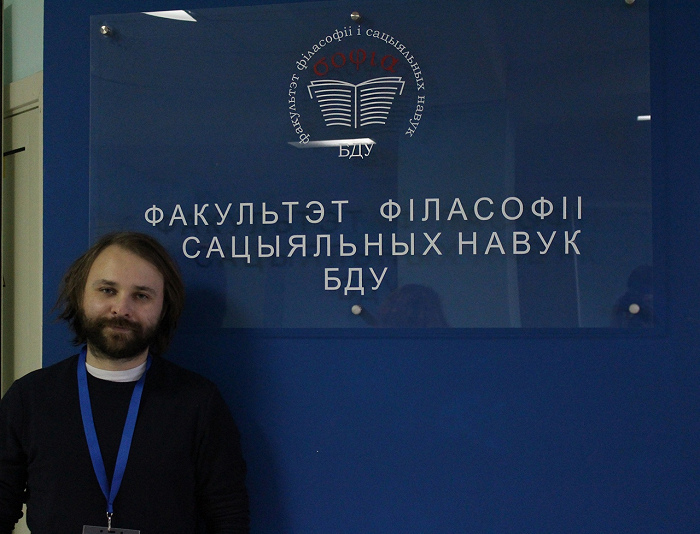 — There are two ways to use digital footprints. One of them is positive: digital footprints left by residents can help change the city for the better, make it more beautiful and comfortable. The second option can be very unpopular: it is a way to supervise and control residents.
We can look back the beginning of the pandemic, when QR codes were used to control the self-isolation regime and geotagging of infected people was introduced in Moscow.
During the Hong Kong protests in 2019 and 2020, law enforcement bodies collected images from street cameras to identify people's faces, then used this information to impose fines or arrest protesters. To avoid this, the protesters wore masks that made it difficult to identify their faces. Scenes from science fiction films shot 20 years ago are becoming reality today.
There are also funny cases. In China, businesswoman Dong Mingzhu was fined for jaywalking, but she wasn't crossing the road at that moment. Her photo was used for an advertisement placed on a bus, and as it drove past, the system identified the photo as a real person.
The positive uses of digital footprints include the transformation of urban areas and the elimination of traffic jams. When a park in Moscow was being replanned, digital footprints were used to learn what people usually do in certain parts of the park. This helped to arrange the area as comfortably as possible for visitors.
Another example is anti-traffic measures in Dublin. Researchers used GPS traffic geolocation to understand where the most vehicles accumulate. Experts built a model that helped optimize the load on these areas, reset traffic lights, adjust public transportation timetables, etc.
Digital Footprints and Security
Another major topic of interest is the digital footprint left by children and teenagers, a topic discussed by Dr Khusyainov at a forum in Novosibirsk.
'People start leaving a digital footprint literally from the cradle, when they are unable to talk, let alone use a computer. Parents are instrumental in this, posting photos and stories with their kids on social media. As teenagers, they actively use the internet, but often don't know how to do it safely. At schools and universities in the U.S., students are taught about the consequences of ill-considered online actions.
All HSE freshmen take a digital literacy course as part of the Data Culture project, which covers this topic to a certain extent,' said Dr Khusyainov. 'This subject helps develop digital competencies that are necessary in any field and cover a wide area, from office software to corpus research methods and geoinformation technology.'
Dr Khusyainov believes that digital footprints are unavoidable for internet users today, and that we must learn to leave them sensibly and safely.
Timur Khusyainov gave us a few recommendations on controlling our digital footprint and being considerate about our online actions:
Think twice about telling everyone that you are on vacation in the Maldives and that your apartment is empty until a certain date.
Criminals can harm your finances or reputation using accounts created a decade ago or more. Consider deleting social media accounts you don't use on websites and services with personal information, and check your privacy settings on your active profiles.
Today, employers thoroughly look at candidates' social media profiles before inviting them to an interview. Look at your social media profile from a potential employer's perspective and check whether this image is suitable for the field and position you are applying for.
While spending time on the internet, keep a positive attitude and remember about safety. This will help you leave a more ecologically friendly digital footprint.