The HSE International Olympiad (HSE INTO) is one of HSE University's largest international projects. Winners of the competition can receive full tuition wavers for their studies and study at HSE University for free. The registration deadline is September 30.
1 September  2022
The IT industry is rapidly developing and incorporating new professions. Zoya Mazunina and Arina Mosyagina, linguists with Seldon and graduates of the HSE University Fundamental and Applied Linguistics programme, met with university applicants to talk about the computer linguist profession, issues of automatic language processing, and how linguists use the knowledge they gain at HSE University.
15 August  2022
Applications for the HSE University Master of Computer Vision, the only English-language online computer vision programme in Russia, are open until August 10. The programme has been developed by researchers of the Faculty of Informatics, Mathematics, and Computer Science at HSE University in Nizhny Novgorod together with researchers in the field of computer vision from leading companies in the industry: Huawei, Itseez3D, Intel, Harman, Xperience.ai, Sber, Newstream and Deelvin Solutions. Andrey Savchenko, Academic Supervisor of the programme and Professor at the Department of Information Systems and Technologies, told the HSE News Service about how teaching competencies in the field of computer vision changes our view of the world.
26 July  2022
This year's final stage of Top Class, the All-Russian Competition of Schoolchildren's Research and Projects, held by HSE University, has come to a close. About a thousand 8th—11th graders from 7 countries and 69 regions of Russia participated in the contest. This is the first time that 3 out of the 25 areas of projects have been presented at HSE regional campuses: in Nizhny Novgorod (philology), St Petersburg (history), and Perm (economics).
13 May  2022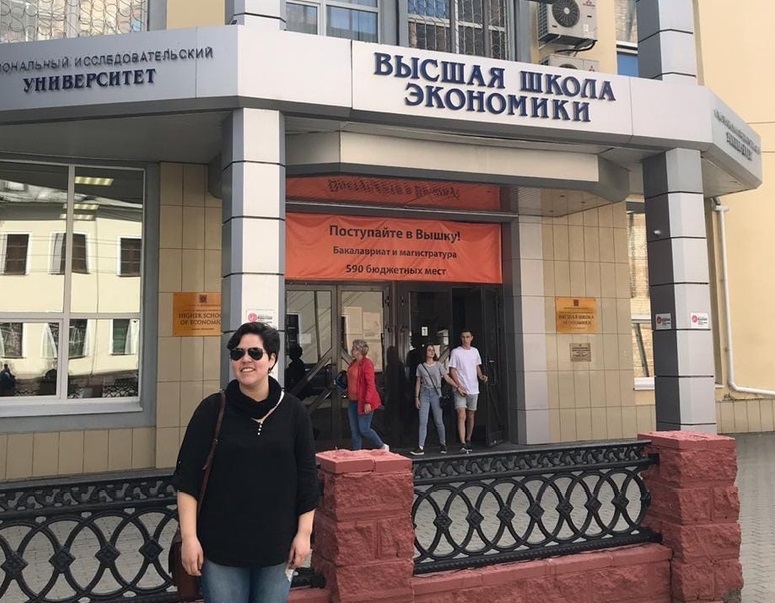 Fernanda Florido-Calvo came to HSE University in Nizhny Novgorod from Chile to study mathematics. While on her two-year Master of Science in Mathematics programme, she wrote her master's thesis and presented it at the All-Russia Contest of Diploma Thesis of Russian Mathematicians 2021, where she won two awards with full marks. Fernanda spoke to the HSE News Service about her passion for mathematics and the paths that lead to HSE University.
27 October  2021
This year, HSE University in Nizhny Novgorod will launch its Master of Computer Vision programme on Coursera. The fully online programme has been developed by leading experts from Huawei, ItSeez3D, Intel, Harman, and Xperience AI. It will be taught in English and is open to applicants from all countries. The closing date for applications is August 16, 2021.
16 July  2021
HSE became the leader of this ranking for the first time, outperforming Moscow State University, the Moscow Institute of Physics and Technology, and other Russian universities. Universities were assessed on the basis of three indicators, Quality of Education, Quality of Graduates and the 'Forbes Factor'.
23 June  2020
Students from more than 150 countries can now receive tuition fee discounts for HSE's English-taught online Master of Data Science programme conducted entirely on Coursera international elearning platform. Admissions are open until December 6.
25 November  2019
Julien Keyser was the first international student enrolled on HSE's Global Business Master's programme. Although the road to the Global Business programme was not straightforward, once enrolled, Julien embraced all the opportunities available for Global Business students. In this interview we have talked to Julien about his semester abroad at NHH (Horwegian School of Economics).
19 March  2019
In January 2019, the graduate of the first Global Business intake, Irina Tolkacheva, received her second master's degree in Global Business, this time from Johannes Kepler University in Linz. Irina essentially completed the double degree program before it was officially launched. Thanks to the fact that this academic year HSE and JKU signed a double degree agreement we did our best to solve most of the issues our students could encounter otherwise. In this interview Irina spoke to us about her journey to her Master of Science in Austria.
6 March  2019