'Fundamental Mathematics Is Creative Work'
Elena Nozdrinova is Senior Lecturer at the Department of Fundamental Mathematics at HSE University in Nizhny Novgorod, and Research Fellow at the International Laboratory of Dynamical Systems and Applications. In 2021, Elena graduates from the doctoral programme of HSE University in Nizhny Novgorod. The theme of her thesis, 'Simple connectivity components of gradient-like diffeomorphisms of surfaces', is related to the development of mathematics as a science. Elena told us why she decided to enrol on the HSE's doctoral programme, why we need fundamental mathematics, and what role the team plays in the formation of a young scientist.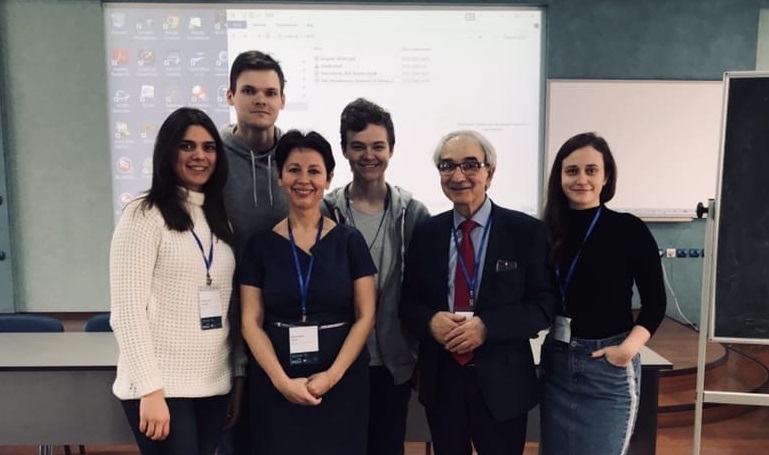 Elena, you must have been planning your science career since school…
Not really. I studied at the Pedagogical University, completed a master's degree, and was looking forward to teaching at a university. At the same time, I had another job that was unrelated to teaching, but then I joined the Nizhny Novgorod branch of the Russian Presidential Academy of National Economy and Public Administration and focused on my favorite activity completely. After some time, I realized that working at the university without a PhD degree meant limiting my career development. I turned to my former research supervisor from the Pedagogical University, and it turned out that he was already working at HSE. I was invited to take part in a seminar, during which I met Olga Pochinka, a Professor of the Higher School of Economics in Nizhny Novgorod, who ended up being my research supervisor in doctoral school.
It was very funny, Olga Vitalievna and I still laugh about the way we met. I finished my master's degree almost three years before our meeting, came from another university, was already expecting a child, in short, was a "perfect" candidate. But I was eager to go to the doctoral school, and HSE University gave me this opportunity. This was the first enrollment on the doctoral school in 'Mathematics and Mechanics' at HSE University in Nizhny Novgorod.
Each university has its own system, approaches to education and attitude to young staff members are slightly different. What were your impressions of HSE University in Nizhny Novgorod?
HSE University combines very good conditions and really strong academy.
If you visit the website of the International Laboratory of Dynamical Systems and Applications, you'll notice that there are a lot of young researchers here. Young employees get support, and when a new researcher joins the team, he/she is engaged in all processes from the very beginning.
The maths team at HSE is not a team where renowned lecturers and professors receive all the grants and projects, and young researchers have no support. The situation here is totally different. They invest a lot in the development of new employees, and thanks to this, there is no need to look for one more part-time job to earn a living. From the very first day, you are involved in grants and projects, and get a workplace. At the same time, you can teach part-time. Thus, you get the opportunity to gain experience in teaching and also to conduct research. This is very important. Young scientists need to devote a lot of time and effort to developing their research career. The laboratory allows you to balance research and teaching. In turn, a good researcher will teach at a fundamentally different, much higher level.

It turns out that the team that the doctoral student joins has a strong influence on his/her attitude to work?
Absolutely. The key feature of the mathematical community at HSE University in Nizhny Novgorod lies in the fact that we are united, and the mathematicians here are like a family. We have a very friendly team. We interact on all levels of education, from undergraduate to doctoral programmes. In addition, we have the Small Mathematical Academy – a special project to interact with schoolchildren. We hold lectures, seminars, and competitions, and in summer, we organize a maths camp for schoolchildren, called "Intellectual". In our case, the department, the laboratory, and the degree programme work as a single system, and each employee takes part in all activities, with no age split. We divide more in research areas, while the research groups include first-year undergraduate students, senior doctoral students, and faculty professors.
Why do you need this activity?
Each class for students or schoolchildren is an adrenaline rush. School mathematics is very different from the mathematics that is taught in the university. The students who do maths are always very lively, interesting, and you get a boost of energy and cheerfulness from them. It is fascinating to look at school problems using your experience and knowledge, and it is always interesting to show students the solutions to a particular problem in a different way.
It is important for us to form an "ecosystem" of people interested in mathematics: schoolchildren, students, and doctoral students. Often these school students come to us later as university students, we involve them in research, and this way we form a community of like-minded people.
Elena Nozdrinova
Research Fellow at the International Laboratory of Dynamical Systems and Applications
 Doctoral studies can be different. Sometimes a doctoral student interacts only with his / her supervisor, occasionally participates in conferences, works in a completely different place, and his / her professional activity is not related to the research topic. Our doctoral students are involved in all academic and research processes. We all go to conferences together, and we participate in them quite often, as it is obviously important to present your research. HSE University gives you the opportunity to attend many conferences and communicate with colleagues. We have launched an annual international research conference 'Topological methods in dynamics and related topics', and about 60 international participants, including renown scholars, took part in the event. There are few specialists working with dynamic systems in the world, and there are literally only a handful of experts. At the conference you have the possibility of talking to the person who wrote the book you studied, and with whose theorems you work. Grants and financial support from HSE University help you to take part in seminars and attend lectures by leading international scholars. It's a unique opportunity. Informal communication is also energizing. We travel around the world, and at the same time, we invite leading specialists to our university.


Elena, you must get questions from your friends about the relevance of your research? For a person who is familiar with mathematics only in the framework of a school course, even the title sounds incomprehensible!
It is not always possible to explain what exactly mathematicians do. And we are engaged in fundamental mathematics. We develop mathematics as a science. I can't say that we have invented or developed something that will help humanity tomorrow. But it is important to emphasize that many large IT companies are looking for specialists in fundamental mathematics. If we turn to the history of mathematics, we can see that the things that are now used in programming were solved 200-300 years ago as general interesting problems in mathematics. At that time, no one could have guessed how cryptography tasks would be in demand in the digital era and how much they would change the world.
We employ enthusiastic people. These are people who are in love with mathematics. It is really difficult for a person who hasn't been engaged in it to understand the importance and value of solving abstract mathematical problems. For us, this is one of our favourite things. Fundamental mathematics is creative work, and the feeling that arises when you manage to understand, prove or explain something, when you internally exclaim "Eureka!", is hard to explain.
We have a group of researchers who are engaged in numerical calculation. Thanks to the fact that we received a substantial grant, we had the opportunity to buy some very powerful equipment, and, accordingly, we have more capacity to work with dynamic systems. My colleagues who are engaged in this area often take part in projects in biology, chemistry, and medicine. They have more specific results that are close to everyday life.
Now doctoral studies represent a separate educational degree, which means that doctoral students must study a certain set of disciplines. Does it help you work on your thesis, or does it make the process more complicated?
I can't say that it was studying that greatly distracted me from research. There were a lot of disciplines in our research field. Doctoral studies as an educational stage are very important. I, as a person who came from another university, was shocked, in a good sense, by the quality of teaching, and the immersion in the field implemented at HSE. Quite possibly, for those who have been taught by the same teachers since their undergraduate programmes, some of this knowledge seemed duplicated. But this is not bad, because you look at many tasks in a completely different way, from the height of your experience. External researchers get the missing knowledge from the educational part of the doctoral programme. But other disciplines are also important. English is absolutely necessary, because all significant research papers are written in English, and doctoral studies can help you improve your proficiency, you can ask your teacher questions, and learn the necessary vocabulary.
Applications for HSE doctoral programme in Nizhny Novgorod are open until March 12th, 2021. Some of our readers might be thinking about applying, but have doubts as to whether they can succeed, and whether they need it. What can you advise from your own experience?
First of all, I would like to appeal to applicants who are thinking of applying to the HSE graduate programme in Mathematics and Mechanics from other universities, because doctoral students who were enrolled from HSE students have a good idea of the education level and requirements, and know the teachers. I want to reassure those who decide to apply to HSE after graduating from another university not to be afraid. Don't worry that you may not know something. At HSE we like people who love learning and want to get new knowledge. A strong mathematical knowledge helps to achieve great results in both IT and engineering. Don't be afraid to join a new team, the people here are very friendly. We like to answer questions and support each other.
We conduct many open seminars and we invite external researchers to take part in them. Information about the seminars is available on the laboratory page. You can meet each other, look around, understand whether this team fits you, whether the study fields and tasks are interesting. And if you decide that we have a lot in common, we will be more than happy to see you!