The HSE Nizhny Novgorod campus accepted international students of the Master's programme "Global Business" again after two years of break: in October, students from Johannes Kepler University (Linz, Austria) and the University of Bergamo (Italy) came to HSE University in Nizhny Novgorod to spend one academic semester together with Russian students. We tell you about the most significant events of this semester.
19 January
This academic year, HSE University launched the first online master's programme 'Master of Computer Vision' supervised by Professor Andrey Savchenko. Alexander Rassadin, graduate of the Faculty of Informatics, Mathematics, and Computer Science (HSE Nizhny Novgorod) and active participant of many CV projects, is delivering the course 'Deep Learning for Computer Vision' as part of the curriculum for this new programme. Alexander told us how he once wrote an algorithm for robot movement, the moment he realized what his dream job was and why analyzing sports games is more interesting than predicting a tsunami.
24 November  2021
The publication of the latest Times Higher Education subject rankings in the Arts and Humanities concludes the annual cycle of the three main ranking agencies: THE, QS, and ARWU. Since last year, HSE University has managed to double the number of top 100 subject rankings it appears in, growing from 6 to 12.
3 November  2021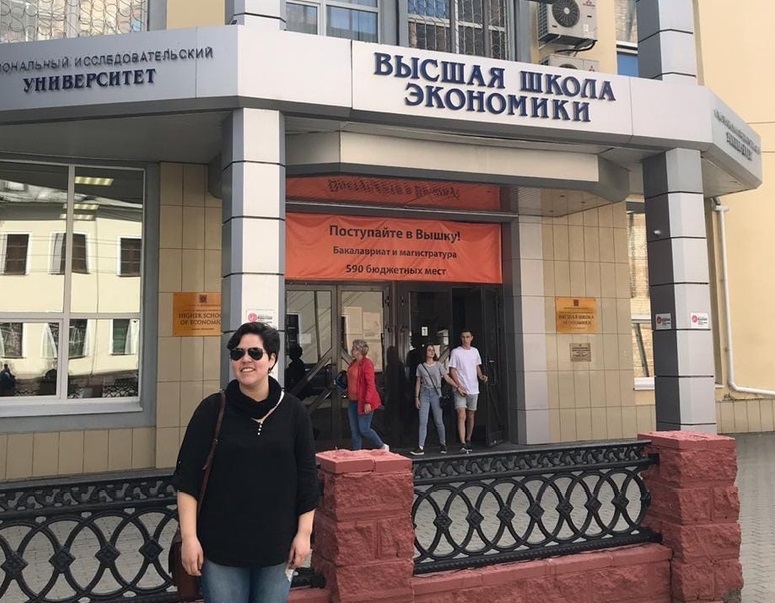 Fernanda Florido-Calvo came to HSE University in Nizhny Novgorod from Chile to study mathematics. While on her two-year Master of Science in Mathematics programme, she wrote her master's thesis and presented it at the All-Russia Contest of Diploma Thesis of Russian Mathematicians 2021, where she won two awards with full marks. Fernanda spoke to the HSE News Service about her passion for mathematics and the paths that lead to HSE University.
27 October  2021
In September 2021, HSE University's Faculty of Informatics, Mathematics and Computer Science at HSE Nizhny Novgorod launched the new applied degree programme Master of Computer Vision. Developed in collaboration with leading experts in the field of computer vision - Huawei, Itseez3D, Intel, Harman, and Xperience.ai – the programme is available on the Coursera platform and open to applicants from all over the world. Andrey Savchenko, Academic Supervisor of the new programme, talked to The HSE Look about how it came to be and what are its advantages.
29 September  2021
This year, HSE University in Nizhny Novgorod will launch its Master of Computer Vision programme on Coursera. The fully online programme has been developed by leading experts from Huawei, ItSeez3D, Intel, Harman, and Xperience AI. It will be taught in English and is open to applicants from all countries. The closing date for applications is August 16, 2021.
16 July  2021
HSE Master's programmes in four new specializations are now available on Coursera in the fields of business analysis, finance, and computer science. Each specialization consists of a series of courses and a practice-oriented final project, says the HSE eLearning Office.
11 May  2021
"Academic Supervision of the programme is a creative process that requires logical thinking and ingenuity, it vitally needs curiosity and a desire for research from the supervisor," Valeria Lakshina, the new academic supervisor of the master's programme in Economics at HSE – Nizhny Novgorod, said about the competencies that would enable future graduates to be endowed with various modern knowledge.
22 March  2021
Degrees in business, technology, and data science will enable students around the world to prepare for the jobs of tomorrow. HSE University and Coursera today announced four new online degree programmes at global higher education conference, eSTARS. With upcoming English-language master's programmes in business analytics, computer vision, data and network analytics, and finance, HSE now has five fully online degrees on the Coursera platform.
1 December  2020
The fall semester has begun for this year's new cohort of the Master's programme in Global Business at HSE – Nizhny Novgorod. The Programme's partnerships with European universities and international companies allow students to gain valuable experience working on international teams. This year, the Global Business Master's Programme enrolled students from Russia, Botswana, Cameroon, India, Nigeria, Ghana, Egypt, and Zimbabwe.
3 November  2020