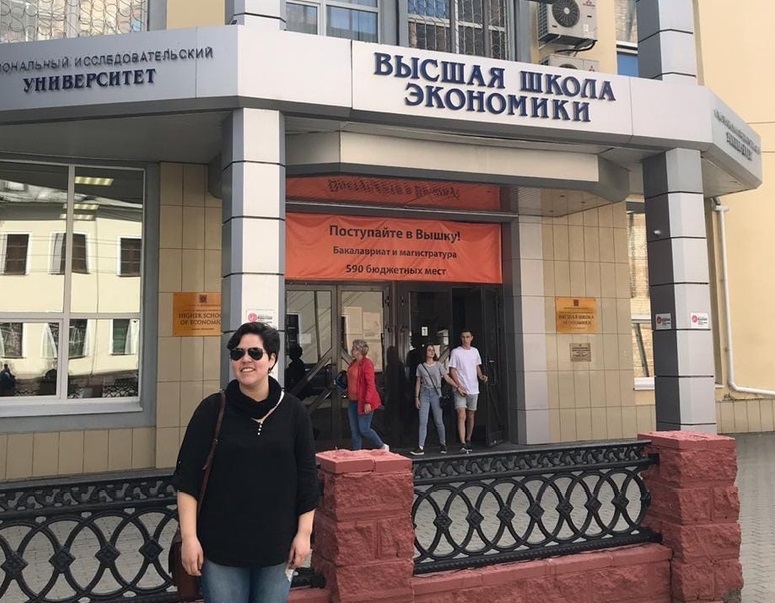 Fernanda Florido-Calvo came to HSE University in Nizhny Novgorod from Chile to study mathematics. While on her two-year Master of Science in Mathematics programme, she wrote her master's thesis and presented it at the All-Russia Contest of Diploma Thesis of Russian Mathematicians 2021, where she won two awards with full marks. Fernanda spoke to the HSE News Service about her passion for mathematics and the paths that lead to HSE University.
27 October  2021
This year, HSE University in Nizhny Novgorod will launch its Master of Computer Vision programme on Coursera. The fully online programme has been developed by leading experts from Huawei, ItSeez3D, Intel, Harman, and Xperience AI. It will be taught in English and is open to applicants from all countries. The closing date for applications is August 16, 2021.
16 July  2021
HSE became the leader of this ranking for the first time, outperforming Moscow State University, the Moscow Institute of Physics and Technology, and other Russian universities. Universities were assessed on the basis of three indicators, Quality of Education, Quality of Graduates and the 'Forbes Factor'.
23 June  2020
Students from more than 150 countries can now receive tuition fee discounts for HSE's English-taught online Master of Data Science programme conducted entirely on Coursera international elearning platform. Admissions are open until December 6.
25 November  2019
Julien Keyser was the first international student enrolled on HSE's Global Business Master's programme. Although the road to the Global Business programme was not straightforward, once enrolled, Julien embraced all the opportunities available for Global Business students. In this interview we have talked to Julien about his semester abroad at NHH (Horwegian School of Economics).
19 March  2019
In January 2019, the graduate of the first Global Business intake, Irina Tolkacheva, received her second master's degree in Global Business, this time from Johannes Kepler University in Linz. Irina essentially completed the double degree program before it was officially launched. Thanks to the fact that this academic year HSE and JKU signed a double degree agreement we did our best to solve most of the issues our students could encounter otherwise. In this interview Irina spoke to us about her journey to her Master of Science in Austria.
6 March  2019
We sat down to talk to our international student from India how he made the decision to apply for the Global Business master's programme, what the process was like and what he expects to achieve after graduation.
2 March  2018
Sara Olmi came to the Nizhny Novgorod campus of Higher School of Economics through a student exchange programme with The University of Bergamo. Here, she is not only studying to improve her Russian language skills, but she also volunteers to help other international students. In this interview, she tells us what life is like in Russia.
12 February  2018
Admissions to tuition-free doctoral studies at HSE open on February 01, 2018. International students can choose from 15 PhD programmes in fields ranging from Mathematics to Art and Design. The programmes are offered at HSE campuses in Moscow, Saint Petersburg, and Nizhny Novgorod. It is not necessary to speak Russian in order to pursue a PhD at HSE – the thesis can be written in English. Several international students are already pursuing doctoral degrees at HSE and one of them, Keunwon Choi from South Korea, has shared his impressions with us.
1 February  2018
International Students' Club leader, Zhanna Shabanova, has interviewed some foreign exchange students about their experiences in Nizhny Novgorod. 
4 December  2017