HSE's new Master of Computer Vision program on Coursera aims to train the next generation of computer vision talent online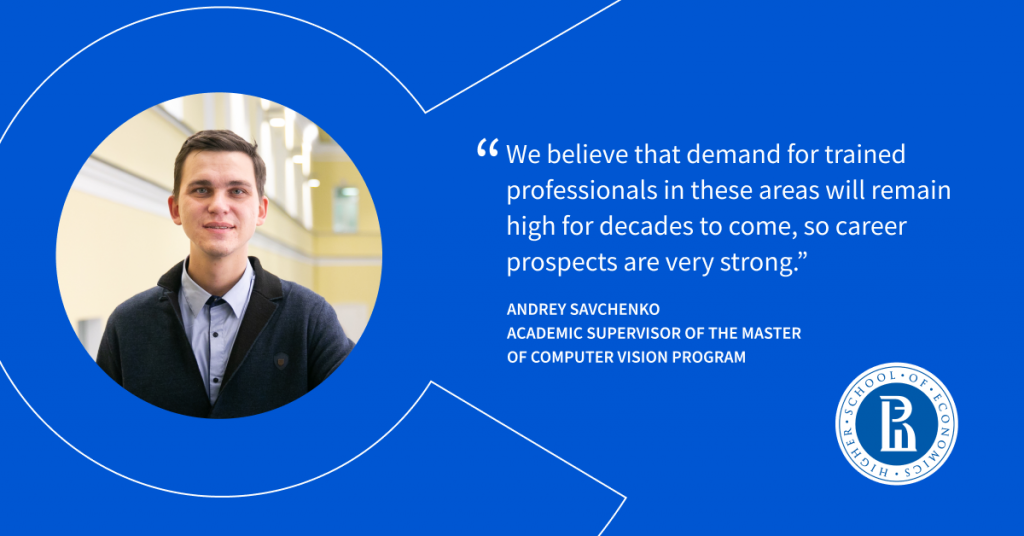 As we approach the application deadline for HSE University's groundbreaking new Master of Computer Vision program on Coursera, we are excited to share some highlights from our recent conversation with Andrey Savchenko, Academic Supervisor for the program. Among the many subjects we discuss are the rapidly emerging career opportunities in the field of computer vision, the experts who helped create the curriculum, and the specific structure of the program itself.
The Master of Computer Vision program is organized by the Faculty of Informatics, Mathematics, and Computer Science at HSE Nizhny Novgorod—a globally recognized leader in the development of computer vision technologies, and HSE University was recently recognized by Forbes Magazine as the #1 university in Russia. In 2008, Andrey Savchenko was a doctoral student at HSE Nizhny Novgorod, researching ways to improve the computational efficiency of image classification. Today, he leads a program designed by leading experts at companies such as Huawei, Itseez3D, Intel, Harman, and Experience AI.
Professor Savchenko, thank you so much for taking the time to speak with us. To get started, can you give us a brief overview of the new program?
Of course. The Master of Computer Vision is a new master's program created in collaboration with leading experts in the field of computer vision. It has been designed to prepare students for work in the field and provide them with a solid foundation in computer science, engineering, IT, and mathematics. 
It's wonderful that the program is so focused on preparing students for career success through the acquisition of foundational skills. What types of students can really benefit from enrolling in the Master of Computer Vision program?
I believe a wide range of individuals can benefit. The program is ideal for everyone from practicing engineers, programmers, and IT specialists to developers and AI experts. Essentially, anyone interested in launching and advancing a career working with images. I would say, too, that young professionals and graduates in IT and mathematics who are looking to take a new direction with their careers and learn new skills are also well suited to the program.
How is the program structured?
It's a two-year program, which is divided into four semesters comprising four courses each. Students will study two courses at a time, with each course scheduled to last 6–7 weeks. 
Can you walk us through focus areas and approaches for each of the semesters?
In the first semester, we're really focused on ensuring that all students have the required knowledge, so we include bridging courses in mathematics and object-oriented programming in Python and C++. Mathematics courses are led by HSE University's tenured professor Valeriy Kalyagin. In addition to Professor Kalyagin, we have engineers from Intel and Xperience AI, who focus on explaining traditional image processing techniques using the OpenCV library. 
The caliber of expertise is very high—that's a real value for learners in the program.
Yes, and as an additional feature during the first semester, we also have specialists from EPAM and Huawei running a course on the machine-learning methods used widely in computer vision systems.
The program features contributions from academic, industry, and research experts—can you give us an example of what this balance looks like in terms of the actual learner experience?
The second semester provides an excellent example of this balance. Over the course of the semester, researchers from the LATNA laboratory explain modern optimization techniques integral to training deep neural networks, while engineers from RoundU provide detailed instruction on the deep-learning methods used in applied image recognition, object detection, and semantic segmentation. The semester then concludes with an applied project led by specialists from Xperience AI.
What happens as students in the program move into their second year?
Courses in the second year delve deeper into complex computer vision techniques such as 3D reconstruction, image generation, and the creation of software that utilizes AI and image processing for mobile devices and other platforms. The program concludes with a thesis project where students will have the opportunity to gain real-world experience working in the field of computer vision alongside leading experts from the program's corporate partners.
Let's pivot a bit and talk about the current state of computer vision. Is there a demand for people with these skills?
Today, research into computer vision is going stronger than ever, and new apps for processing images and videos are appearing all the time. More and more companies around the world are setting up AI divisions and hiring computer vision experts. So yes, there is definitely growing demand. However, there is still a shortage of qualified talent, so companies are often forced to hire graduates from other tech disciplines and then try to train them in computer vision techniques on the job. Our program aims to meet the high demand by training dedicated computer vision specialists.
What can you tell us about the career prospects of a graduate from this program?
Graduates of the program will be well prepared for professional success in the field of computer vision. Over the course of their studies, students will gain valuable experience working on real projects with industry experts. They'll gain the knowledge and tools needed for careers in computer vision software engineering, perception engineering, 3D perception/computer vision algorithm engineering, computer vision test engineering, computer vision science, and more. We believe that demand for trained professionals in these areas will remain high for decades to come, so career prospects are very strong.
Is there a path into this field you'd recommend for learners who may not yet be prepared or qualified to enroll in the master's program?
Yes, absolutely. Professor Kalyagin teaches the Basics in Computer Vision Specialization on Coursera, where learners experience the content and format of the Master of Computer Vision program while also gaining the mathematical and programming skills necessary for the development of algorithms in the field of computer vision. They will also learn how to use the OpenCV library for analyzing two-dimensional images, which is an essential applied skill for computer vision professionals. Upon completing the Specialization, students will earn a certificate. Plus, they can potentially leverage their completed work should they enroll in the full master's program.
Thank you, Professor Savchenko, for sharing your thoughts and insights with our community! We're thrilled about the new program and excited for all the students who are currently enrolling.