A panel discussion 'Beyond the Oligarchs: A Survey of Russian's Vibrant High-Tech Sector and the Law' was held in New York as part of the 'American Bar Association Section of International Law 2016 Spring Meeting' international conference.  Mikhail G. Nazarov  and Nadezhda N. Butryumova, Associate Professors at the Department of Venture Management and Experts at the 'Administration of Innovative Systems' Project Laboratory, took part in the event both as organisers and participants. 
25 April  2016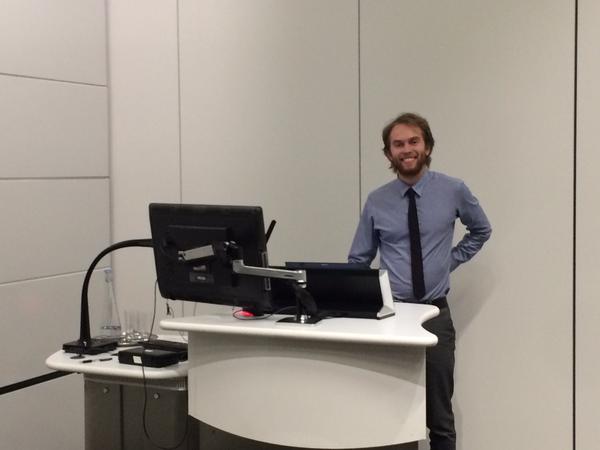 Alexander Ponomarenko won a contest organized by IBM.
11 March  2016
On January 28th French scholar Dominique Millet-Gérard delivered an open lecture on 'France and Russia in the 1930s: In Search of European Christian Humanism'  in the Academic Thursday Series at HSE Nizhny Novgorod.
29 January  2016
The 18 th  Conference of the Eurasia Business and Economics Society (EBES) took place at the American University of Sharjah on the shores of the Gulf in the United Arab Emirates. Researchers, including Anna Vodopianova, first-year master's student of economics at HSE in Nizhny Novgorod, came to the conference from 43 different countries.
25 January  2016
During the January vacation Professors at the Department of Fundamental Mathematics Vyacheslav Grines and Olga Pochinka went to France to conduct joint research in the field of dynamic systems with leading world scholar Christian Bonatti.
21 January  2016
On December 9th, 2015 the all-university research seminar 'Mathematical Methods of Decision Analysis in Economics, Business, and Politics' will be broadcasted at HSE Nizhny Novgorod. 
8 December  2015
On November 10th-16th 2015, the 2nd Annual Workshop for Young Academic Elites was held at the East China Normal University. Elena Sidorova, 4th-year student of the Faculty of Economics at HSE Nizhny Novgorod took part in the event.
23 November  2015
During a recent conference at Stanford University, Leonid Bolshukhin, lecturer in HSE Nizhny Novgorod's Faculty of Humanities, presented a discovery dating back to Boris Pasternak's school years. This concerns a page from a classmate's journal on which Pasternak wrote a musical phrase, along with a note and signature.
14 October  2015
Creating totally new and exclusive products, business models and technology solutions is not always necessary in today's innovative economy; it is often sufficient to use the knowledge and inventions already available worldwide, according to professor  Mikhail Shushkin and associate professor  Sergey Alexandrovskiy, researchers at the Department of Marketing, Faculty of Management, HSE Branch in Nizhny Novgorod.
2 October  2015
At the HSE campus in Nizhny Novgorod, Svetlana Bryzgalova recently gave a public lecture on 'Pricing Theories in Various Classes of Financial Assets' as part of the Second International Conference on Econometrics.
29 September  2015