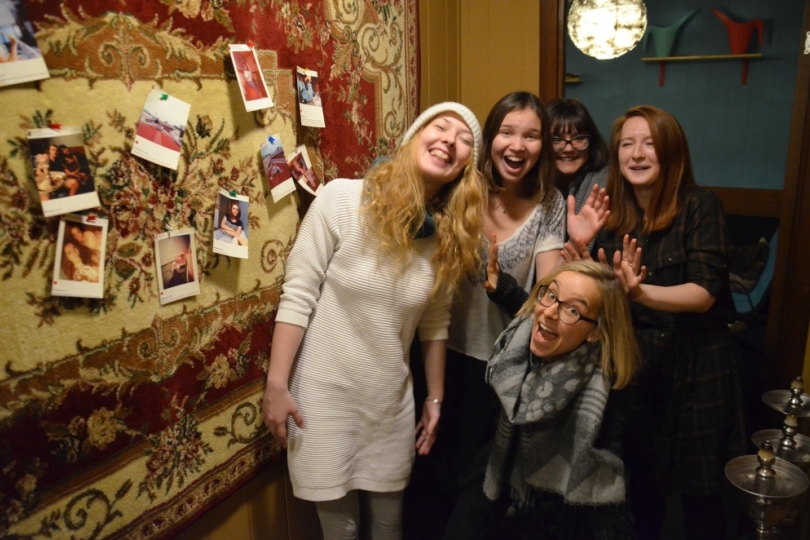 Language Tandem, a new project at HSE in Nizhny Novgorod, has been launched. The project involves 15 international exchange students, who came to Nizhny Novgorod from France and Italy, master's students of Global Business from Austria and Italy, who have just started learning Russian, and 15 Russian students from various faculties who are studying foreign languages. The participants shared their impressions of the first meetings.
25 November  2015
On November 10th-16th 2015, the 2nd Annual Workshop for Young Academic Elites was held at the East China Normal University. Elena Sidorova, 4th-year student of the Faculty of Economics at HSE Nizhny Novgorod took part in the event.
23 November  2015
A new exhibition devoted to France has opened at HSE's Nizhny Novgorod campus. The exhibition was organized by Gennady Ryabov, who is an advisor to HSE Nizhny Novgorod's Director, the creator of the 'Cultural Environment' project, and Honorary Consul of the French Republic in Nizhny Novgorod. 
17 November  2015
During a recent conference at Stanford University, Leonid Bolshukhin, lecturer in HSE Nizhny Novgorod's Faculty of Humanities, presented a discovery dating back to Boris Pasternak's school years. This concerns a page from a classmate's journal on which Pasternak wrote a musical phrase, along with a note and signature.
14 October  2015
A grand opening for the third enrolment of master's students in Global Business took place at the HSE campus in Nizhny Novgorod. The master's programme is aimed at training managers with professional, social, and personal competencies needed for working in the global economy.
14 October  2015
Two students from Johannes Kepler University,  Strahinja and Stefan Lazić, presented information about their country at the most recent meeting of the International Club.  The brothers spoke about the things that make Austrians proud, things they don't like and what they aspire to. The presentation aroused great interest among the students.
8 October  2015
Alessandra Marabini and Francesca Di Furia are Italian exchange students living in Nizhny Novgorod. They are from University of Bergamo and have come to HSE on an exchange semester to study Economics and Russian Language. Both of them have been to Russia before so they are not fazed by the unfamiliar things they see going on around them. Nevertheless, as they tell us below, something new and surprising seems to happen to them everyday. The things that struck them most during their month in Nizhny Novgorod are public transport and the old houses.  
6 October  2015
Creating totally new and exclusive products, business models and technology solutions is not always necessary in today's innovative economy; it is often sufficient to use the knowledge and inventions already available worldwide, according to professor  Mikhail Shushkin and associate professor  Sergey Alexandrovskiy, researchers at the Department of Marketing, Faculty of Management, HSE Branch in Nizhny Novgorod.
2 October  2015
A photo exhibition 'Faces of War', dedicated to the 70th anniversary of World War II has opened at HSE – Nizhny Novgorod. The exhibition includes about 200 unique photographs from private collections and various archives in the USA, Germany and the USSR, showing the battle scenes from the European, Eastern, African and Pacific theatres of war.
1 October  2015
At the HSE campus in Nizhny Novgorod, Svetlana Bryzgalova recently gave a public lecture on 'Pricing Theories in Various Classes of Financial Assets' as part of the Second International Conference on Econometrics.
29 September  2015